— Shit, the temperature is sinking far too quickly. This is a bit of a crisis.
Magne Furuholmen peeps up at the theremometer in Tommerup Keramiske Værksted, a bit nervous. Nine monumental ceramic columns are in the oven. If the potter's oven gives up now, artworks worth millions of kroner are at risk of ending up as potsherds. Furuholmen is not feeling comfortable.
— One month of hard work might be wasted. If that happens, we just have to start all over, he says.
Magne Furuholmen made the A-magasin-cover:
The past year he has been commuting between Norway and the sleepy little town of Tommerup, about two hours by car to the south of Copenhagen, in order to finish an art project which is by far the largest so far in his career.
Its not the first time that the 52-year old is working on a commission for the Norwegian financier Kjell Inge Røkke. Earlier he designed a sail measuring 3600 sq.meters for Røkke's
66 meters long sailing boat. He has decorated the offices of the engineering company Aker Solutions at Fornebu near Oslo, and in 2013 he constructed a farmyard tree from steel, 12 meters tall, for Røkke's cabin at Oppdal in central Norway. But these projects are just peanuts, compared to what he is working on now.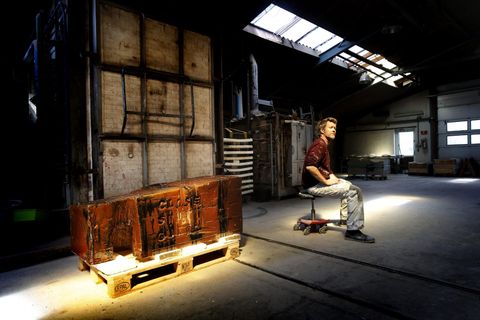 «Not by a mile but a mere few feet»
Furuholmen has been assigned to create a miniature-Frognerparken at Aker's new headquarters in Fornebu. He received the order from Røkke's company one year ago, and the a-ha-singer is right now in the final stages of preparing the artworks that will make up Scandinavia's largest ceramic sculpture-park. In fact this is going to be the largest collection of sculptures by a single Norwegian artist since Gustav Vigeland in Oslo's famous Frognerparken.
— This is the single most comprehensive commission in my artistic career. That is why this new park is extremely important to me as a visual artist. I was never in doubt whether I should accept the challenge, he says.
Largest in the world
40 single ceramic elements, among them the world's two largest jars - six meters high - nine columns between 2 and 4 meters tall and a 12 meter long ceramic relief, will dominate the 2,5 acres large park at Fornebuporten. Everyting is being produced at the renowned pottery in Tommerup on the Danish island Funen. But time is short. The first section of the park is scheduled to open this Ausgust, and an unwilling potter's oven is not what Furuholmen needs at all.
— We will just have to wait and hope for the best. It happened several times already that only potsherds was left when we opened the oven. This is of course very sad, not least because of the loss of artworks that I am satisfied with, but also because of all the time and energy invested by everyone. But there will never be guarantees that such things don't happen, says Furuholmen.
The concern doesn't show on his face, but he admits that unforeseen things keep him awake at night. There is a lot to think about in the near future. On September 27, a-ha will make its comeback in Brazil, in the same Maracanã stadion where Furuholmen, Harket and Waaktaar
played in front of a huge audience of 195 000 in 1991.
But for the moment, saving the ceramics is his main concern. Beside the reluctant oven stands the largest ceramic jar ever made, six meters tall. Two such jars will be the principal work in the new sculpture park. The potter's oven had to be specially designed for jars of this size.
— The staff here at Tammerup say this is the limit. When the oven temperature approaches 1300 centigrades, the jars are in fact just 12 tons of shivering, red hot jelly. There is a lot of physics involved here, he says.
Sets new records
With his enormous jars, Furuholmen sets new records. Even if he is not so keen on records, he enjoys the thought. Not everybody will agree with him.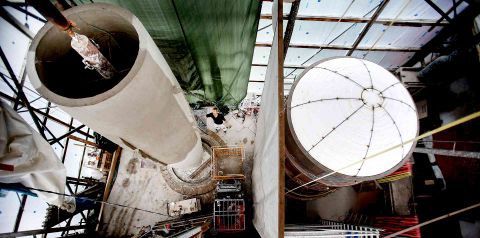 — I am sure someone will have their own opinion about me being awarded this assignment, but I'm not interested. I have lived for 25 years with my starting point, and I think this is what I can contribute. I do not care if somebody see a problem in this. I am aware that my fame to a certain extent cast a shadow on the interpretation of my artworks. Still, I think I have more to offer the world as a visual artist than as a musician. In all immodesty, says Furuholmen.
The management of Aker's company Fornebuporten is awaiting the final result with large expectations. Aker invested more than 200 million kroner in the outdoor area, excluding the artworks. How much they pay Furuholmen, they will keep to themselves.
— I would not say that Magne Furuholmen has turned into a staff artist with Aker. But he is an artist who offers a lot of himself, and he makes cooperation easy. Moreover, the works he made for us previously, on different locations, were very successful, says Torstein Storækre, head of Fornebuporten AS.
Only recently did the first employees move into Aker's new headquarters in Fornebuporten, a complex of buildings designed by Haakon Hilland in Dark architects. In planning the new headquarters, the management travelled to America to visit Apple and Google in San Francisco and Boston.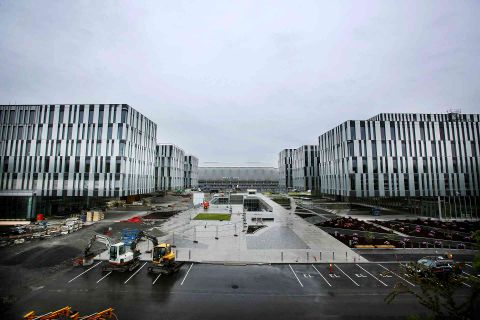 — Characteristic for these environments are campus-style areas with focus on openness, giving the employees a chance to lower their shoulders. There are green parks, areas with nice restaurants and fitness-arenas. At the same time, these companies have emphasized an architecture which lets the staff associate themselves with their work place, says Storækre.
«You are learning about the cost of keeping clean»
Magne Furuholmen joined the managers across the Atlantic. They invited him to figure out how the new outdoor area could be designed as a warm and appealing place for the company's 2500 emplyees. The idea to create a park was mainly his.
— The idea in fact materialized after we made this roundtrip. Furuholmen is not the kind of artist who spreads sketches about, but he presented us with some moods. We both found them agreeable, our main owner and myself, says Storækre. When the new Fornebu-metro opens, thousands of commuters will step directly into the new sculpture park.
A universe of words
In the Tommerup workshop, the mood is on its way up again, along with the temperature. A new motor is in place, and the potter's oven has returned to its good old mood.
— A bit lower, please Per.
The world famous musician does not enjoy heights. Still, he agrees to be lifted five meters by a forklift. Carrying a tray with vowels and consonants cast in aluminum, he prepares to attack the 12 tons of clay towering majestically above ground. Perspiring freely, the artist hammers in different combinations of letters that will make up a universe of words in English. The sculpture part also represents sort of a debut in poetry for Furuholmen.
— The park will be marked by things I wrote through the years, texts with a lyrical element. Some of them come from songs I wrote, but most is free standing English poetry. I have something like 5000 – 6000 unpublished poems. They have been stowed away, awaiting some project, he says.
These park-works will eventually be published in a book, including the full texts of several poems.
— The idea is that people will search their way through the mass of texts as they stroll around the sculptures, columns and combination of words that are carved out in the ground. The interesting thing is what will happen to these texts when they enter into a visual medium, how they are broken up and changes character. The texts are supposed to encourage some kind of marvel, an input to a debate of minds, he says.
The park has been named "Imprints", which means leaving your footsteps in something soft, or leaving lasting impressions.
— The things I write in music get a different effect when moved over to an object which contains some kind of mystique. Some of it will be easy to interpret, some will have the shape of a collage, while other statements may seem contradictory. I have chosen texts that I find relevant, as if I myself were a curious visitor to this park, he says.
Several works resembling a sarcophagus are standing about in the Danish pottery. Some have been deformed by means of a hammer, a bat, a spade or an axe, before the text is added. Then they have been covered with temuku-glaze, a Japanese technique which is normally used only for making small ceramic tea cups. The result is a glazed, dark brown, rusty colour. The surface will be so robust that visitors may sit, lie or jump on an original Furuholmen in the park at Fornebu.
«For things at a common destination there is a common goal»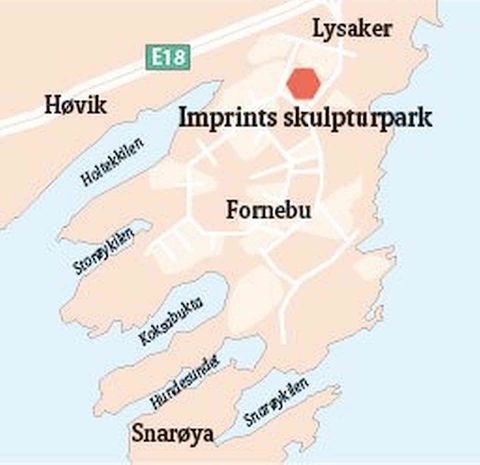 — I hope the park may be understood in different ways, maybe some highly provocative things will be hidden inside. It may probably be conceived as a critical eye on certain things, but also as an embrace of something else. Probably both, but I approach this with an open mind, says Furuholmen.
Not the first
Tommerup Keramiske Værksted is well acquainted with Norwegian artists, for instance
Kjell Nupen, Frans Widerberg and Kjell Erik Killi Olsen. Magne Furuholmen, however, is almost like a son to Esben Lyngsaa Madsen and his Norwegian wife, the ceramic artist Gunhild Rudjord.
— The first time Magne came here was in 1992, together with Kjell Nupen. Obviously Nupen was the big brother, while Magne was the novice. Kjell Nupen had been here before, Lyngsaa Madsen remembers.
Furuholmen brought back from Denmark his first ceramic tray. From a fumbling beginning, however, the Norwegian artist has become an important partner for the couple.
— As an artist he is incredibly focused, and challenges us every time he comes up with something new. In order to meet his ambitions, we are pushed to a limit, professionally and technically. And we appreciate it, says Lyngsaa Madsen.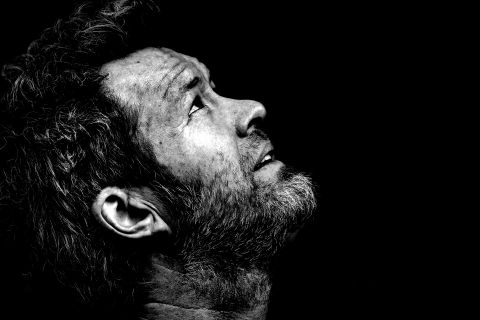 The new sculpture park represents a huge professional step for the pottery staff in Tommerup, and the largest single job ever for the workshop.
— Much of what Magne comes up with, would never be proposed by a ceramist. Such an artist knows how extremely difficult these things may be, but Magne is happily ignorant about the difficulties. Han thinks he can walk on water, and so he does, in a way. In this way he has been a wonderful acquaintance for us, say the couple.
A busy life
In the pottery in Tommerup, evening is approaching. It often gets late when Furuholmen works. The text is finished on the world's biggest jar. Now it is awaiting a month long drying period, and thereafter one month in the oven. After this process, 12 tons of German clay will have turned into a glazed jar of 9 tons. If the worst possible should happen, that the jar will not stand the burning, Furuholmen would have to start all over. As if the artist were a man with open spaces in his schedule. In addition to the a-ha-comeback, with disc-recordings and a tour, he works simoultaneously with a number of other projects. He will participate in a group exhibition in Rio next December, and before that he is going to participate in an exhibition in Washington D.C.
— I know where I shall be every single day until June 2016, but I never get tired from working hard. What tires me, is the waste of time and people who get obsessed with details, he says.
Joining him in Denmark is his son Filip Clements and his permanent assistant, Tor Einar Krogtoft-Jensen. He keeps track of everything Magne Furuholmen is doing.
«Not for life but a momentary span»
— I'm not sure there will be a very long summer holiday this year. That is why I can adapt my job situation to the social reality. Luckily I have an enthusiastic and patient family. At the same time, I notice with pleasure that my sons are being inspired by the energy I put into my job. It's a wonderful feeling, he says.
The managers at Aker gave him free reins. That is why the park will be larger than originally planned. Totally the sculpures will consume 50 tons of clay.
— The recipients are the people who will experience the park, not those who manage the money. I am not afraid to stand up for what I am doing. I think it is possible to demonstrate reverence, without standing with cap in hand, says Furuholmen.
The choice of clay as a material, instead of glass or steel, hints at the historic axis between past and present. Concerning the environment surrounding the park, Furuholmen stresses the concepts preserve, inspire and create. The ceramics will team up with modern architecture.
— The shape of the jar has been an important bearer of culture since antiquity. Jars were used to keep and protect things that were important to us, whether it was food, oil or parchments. The choice of columns can be seen as a retrospective view on history, with reminiscences of past grandeur and looking towards the future. At the same time, columns have something industrial about them – some kind of unfinished architecture, work in progress, he says.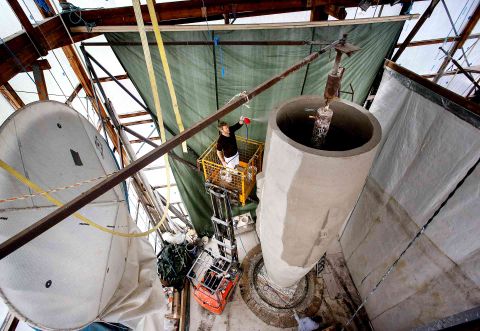 Not until the park is finally opened in the summer of 2016, will he get the answer – will the park be yet another hit signed Magne Furuholmen.
— Many people are certainly reacting to the fact that Magne Furuholmen is entrusted with such a large task, says art critic and historian Stig Andersen. He personally respects Furuholmen as an artist.
— Of course his background as a world famous pop star has contributed to this opportunity, and to the fact that Aker chose just him. But not only. Unlike numerous pop starts who create mediocre art in addition to the music, Furuholmen is taking his mission as visual artist dead serious. Of course his is not unaffected by teachers like Kjell Nupen, but still he has developed a personal language of expression – a personal voice – that I respect, says Andersen.
«Every day I say to my self today will begin»
Utdrag fra tekstuniverset signert Magne Furuhomen.
He thinks Furuholmen demonstrates an almost exorbitant fearlessness by enganging in different types of artistic techniques and means of expression.
— In addition to his large creativity, he takes the challenges, carries out everything he decides to do with massive energy, and he achieves results. That in itself is admirable, and art it is – whatever, says Andersen.
PS: After our reporter returned from Denmark, he received an SMS from Magne Furuholmen: The columns are complete and out of the oven.
Translated by Aasmund Willersrud