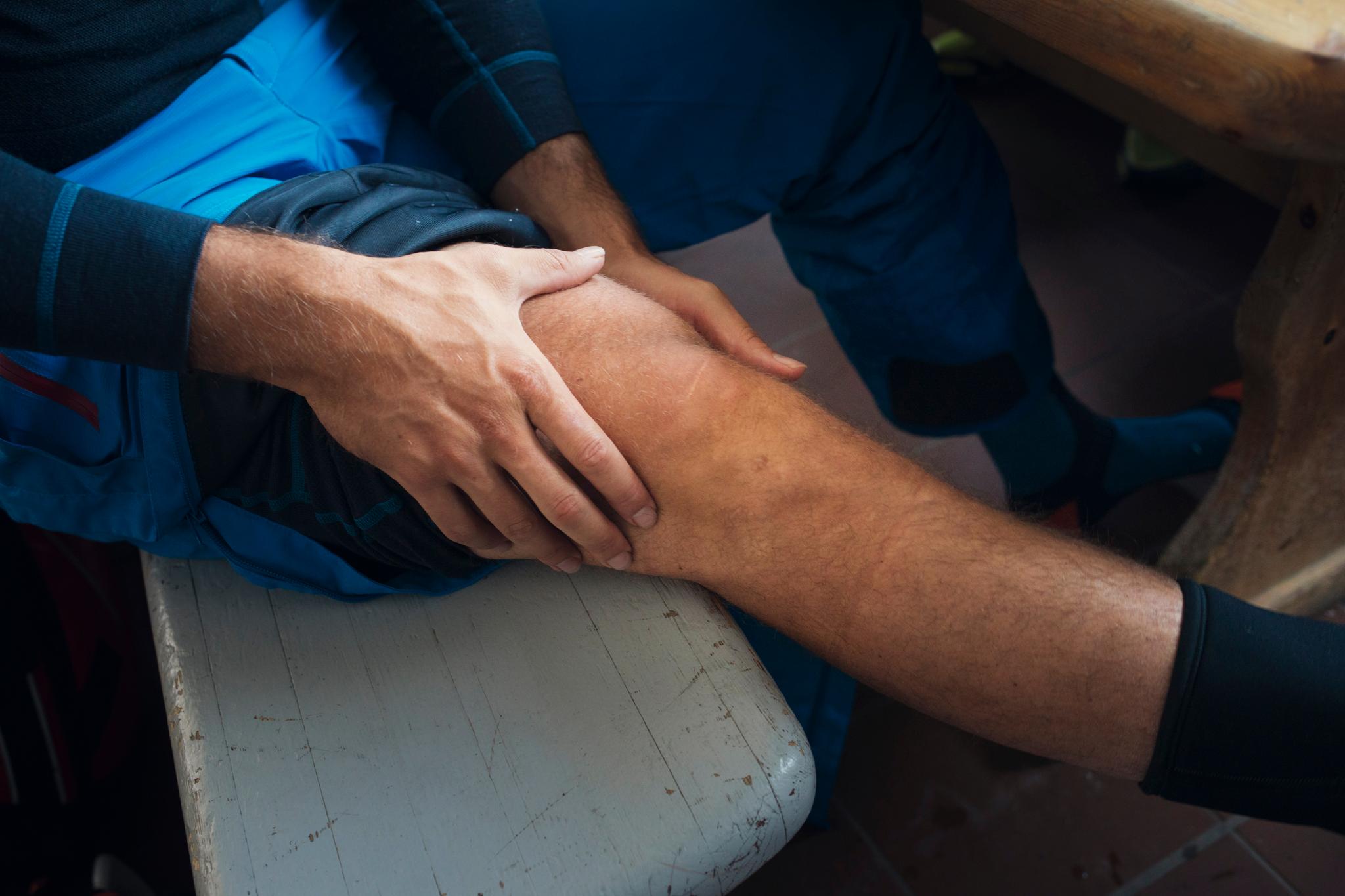 Foto: Kyrre Lien
Aksel Lund Svindal's way back to the top of the world
How much beating can a human body sustain – and still return as a world champion?
This feature ran in A-magasinet in Aftenposten 17.11.2017.
Ten months ago, on Tuesday, January 17th 2017, Aksel Lund Svindal woke up from anesthesia in a hospital bed in an emergency room in Oslo. Although he'd just had surgery and was still in bed, drowsy from the anesthetics, his instincts kicked in: tightening his thigh muscles above his bandaged knee.
He remembers thinking: "I will not let his muscle die". Tighten, relax. "Recover quickly, win more races." Tighten, relax. "Throw away those crutches as soon as possible." Tighten, relax. The doctor who had just preformed the surgery, Dr. Marc Jacob Strauss, entered the room and saw what his patient was doing.
"Aksel, I wouldn't do that if I were you. The anesthesia is still in your system. This is going to hurt quite a bit", he warned him.
An hour later, Aksel Lund Svindal was in so much pain he wanted to scream.
Prior to the surgery, the doctors had told him: "We don't know what this is. Perhaps we'll find something we might not be able to fix. If so, our recommendation will probably be that you should quit."
Now, after his surgery, the 34-year-old alpine skier was told: The reason for the intense pain he had experienced over the last few months was a complete meniscal tear in his right knee. While he was under anesthesia, his meniscus had been pulled back in place and reattached to the bone. And like this, tighten, relax, yet another period of rehabilitation started. A place and a date for a come back was set: The downhill race at Lake Louise, Canada November 25th.
Injury after injury
How much beating can a human body sustain and still return as a world champion? The answer is a lot.
When Aksel Lund Svindal fell and crashed in the slopes of Beaver Creek in 2007, he was probably going down the mountain at 120 kilometers per hour. He fell so hard that several of his molar teeth cracked. The teeth, however, were far down on the list of serious injuries the fall had inflicted: A fractured cheekbone and a broken nose. An 11 centimeter deep cut in his thigh, which had to be sewn layer by layer. A scar from the bottom of his stomach to the navel – his doctors were afraid the fall might have caused internal bleeding.
And since then: An anterior cruciate ligament (ACL) injury, a meniscus tear, a fractured rib, minor fractures in his back, a so-called "jumpers knee" in both knees, an acute fracture of the fibula bone, a total rupture of the Achilles tendon in addition to dozens of other minor injuries – too many to mention.
He's been particularly prone to accidents for the last few years. This year's injury might have been a "consequential failure" from when he crashed in the infamous Kitzbühel course in 2016. Despite rupturing his ACL and injuring the cartilage in his right knee, he made a triumphant return to the World Cup. But eventually his knee started hurting again. A lot. He knew something was wrong, but he didn't know what.
For Aksel, it was therefore almost a relief to be back on the operating table again. The torn meniscus was finally discovered. Yet another long period of rehabilitation was awaiting him. This time, A-magasinet, was allowed to follow him during his journey to recovery. The first item on the agenda, Aksel Lund Svindal announced, was "a hard-core workout at the Norwegian Elite Sports Center."
You and whose army
Perhaps because the whole thing about danger and risks has been settled a long time ago, Aksel Lund Svindal now looks for the positive aspects, rather than whining, whenever he is injured. After all, his job is to ski as fast as he can down insanely steep mountains. His only protection is a thin race suit, knee padding, his back protection and a helmet.
"At the start gate, I work a lot on being aggressive and fearless, even though I know what I am about to do is dangerous. I can't fool myself. It is dangerous. I tell myself: "I know it is dangerous, but this is a risk I am willing to take." When an accident happens, it isn't actually very hard to accept", Svindal explains.
He attracted attention internationally when he posted a video on Instagram the day after his Kitzbühel accident in 2016. The video showed Svindal in the hospital bed, laughing and playing "rock, paper, scissors" with his competitor Georg Streitberger. The two of them were "competing" to settle which one of them got to get their knee surgery first.
Devastated, shattered, upset? That's not Aksel Lund Svindal.
He refuses to accept concepts like "lucky" or "unlucky." The words make him nervous, they imply that there is something out there which he cannot control. Instead, he believes that everything balances out over time. While he's riding a bike at the Elite Sports Center in Oslo at 8am on a Friday morning in June, wearing sneakers, shorts, a shirt and a hat, he says:
"I get praise every time I make a comeback. To me, it's much more impressive when a junior does that. Imagine if I got these injuries when I was a teenager – I'm not sure I would be sitting here then. I have all the recourses available. It feels like it's a whole army of people behind this comeback."
Soon, sweat will start dripping off of the brim of his hat, but Svindal does not stop smiling. His big triumphs are broadcasted on live TV. His smaller victories – five kilos more on the barbell, two more repetitions compared to last week – one can only imagine how treasured those moments must be.
Yesterday, he was allowed to go for a long run for the first time in nine months – Svindal sees that as a good thing. His knee didn't swell up too much – another good thing. To the sound of a little-too-soft pop music he starts working out with his teammates. Nothing is better than hard workout sessions with friends. In advance he has pointed them out and explained: "This guy also completely tore his ACL, that guy too, the one over there partially tore the ACL and that one there injured his wrist." In here, the scars are new and old. Red scars and white scars. The scars are the flip side of the national alpine ski team's merits.
He warms up with an elastic band around his legs. When the elastic band rips, he laughs and cries out: "I'm too strong".
How strong he is and how exceptionally good a body balance he has, is demonstrated when he does single-leg squats on a balance pad followed by squats with 150 kilo on his back. For the downhill skiers, this is the mother of all exercises. This is what it takes for the thighs, back, butt and abdomen to withstand the g-forces they are exposed to at 150 kilometer per hour.
When Aksel Lund Svindal pushes himself, his whole face changes to something unrecognizable: His jaws are clenched. There's an intense darkness in his eyes that's usually isn't there. His moaning sounds like it comes from the bottom of his stomach.
"This is one of the best repetitions I have seen you do this year," says Lars Øystese Mæland, the sober-minded coach, who hails from the west coast of Norway.
But what happens in the gym is one thing. Aksel Lund Svindal and his teammates belong somewhere else: On the snow.
Fire and snow
The Americans have a word for his favorite kind of snow: They call it "hero snow". It's dry winter snow, so hard that it makes a creaking sound. It's not ice, it's snow and it never breaks. When you go fast on this kind of snow, the trail of your skis are no deeper than a few millimeters. This kind of snow turns Svindal into a 34-year-old big kid, weighing in at around 102 kilos.
Skiing has been his profession for almost two decades. But he still remembers why he was drawn to skiing as a child. After Aksel was injured in Beaver Creek in 2007, he stayed with his dad, Bjørn, in Oslo for a long time. He needed help with the mot basic things. Eventually, he got too impatient. Together with his younger brother, Simen, who is three years younger than him, he "tiptoed" to the ski slopes in the evenings and in the early mornings on weekends, wearing anonymous clothes so he wouldn't get recognized.
The international star had lost 15 kilos of pure muscle. Even doing completely ordinary things, like putting his boot in the binding, felt awkward. He was "super careful" as he went down the floodlit slopes in the evenings and in the blue morning light on the weekend mornings. He thought to himself: "This how we used to ski – before and after school and right after breakfast on the weekends."
After this last injury, Svindal has decided to make his comeback on snow on the third largest glacier in Norway, Folgefonna in Hardanger. On the first evening of August, Aksel Lund Svindal writes an e-mail:
On the big day he wakes up to nice weather and a pleasant 18 degrees Celsius. Once breakfast is over, a long procession of sponsor cars drive on the narrow, winding roads towards the top of the glacier. They pass rivers, small lakes where the trout are jumping, water falls and green forests. When they cross the tree line, the temperature drops and the view gets more and more spectacular.
At the top, Aksel fist bumps a service man from his ski provider, Head. He looks at his skies like someone who has not been on skis for eight months. Click. One boot is on the ski. Another click. And then he's gliding away towards the T-bar lift – with a big smile on his face.
The snow is dirty white. Blue ice sticks up here and there. The clouds are threatening. It starts to drizzle. Aksel Lund Svindal is feeling his knee: Does it "just" hurt, or is this severe pain? Severe pain is not good, but he can endure other kinds of pain. After four slow runs down the glacier he takes his skis off and walks over to a small cabin where he can relax and warm up.
Someone tells him that he was the fastest person down the slope so far today.
"That's because I'm afraid of making any turns," Svindal laughs.
He wants to ski some more, but he knows his knee has already swollen up. He seems a little annoyed – the rest of his body feels fine. His head, heart, lungs and muscles are all perfect. It is only the damn right knee that is ruining everything. He compares himself to a race car with a flat tire.
"It doesn't feel good, but it doesn't feel bad, either," he says as he pulls up the leg of his pants above his knee.
"It's not that much more swollen now compared to this morning," coach Lars Mæland says after examining it.
Aksel sits down on a bench together with his teammate, Axel Patricksson. He has a serious knee injury, too.
"Are you going for another run?" Svindal asks.
"Yes," Patricksson replies.
"There is nothing else to do. We're just sitting here looking at our knees. That's not going to make them any better," Svindal says.
They joke about being on the snow while they still can. Later tonight, Marc Jacob Strauss, the doctor who performed knee surgeries on both of them, will be coming to the village. "If he sees that our knees are swollen, he's going to send us back home," they say as they laugh.
Aksel takes a few more rounds, eats his lunch before taking a short, full-speed bike ride on the wet and slippery roads of the west coast of Norway. Then he eats some more and goes to bed.
"I need a sandwich!"
The following day he sends an e-mail at 6:38am:
The decision: He shouldn't ski. Instead he's going to bike – it's much easier on his knee. At this point, Aksel Lund Svindal seems a little lost – still not fully awake, with slippers on his feet, sitting on a worn-out couch, one knee much larger than the other.
"The other guys are going up to the glacier, and you have to…"
"…sit here. Yes, it sucks," he interrupts.
"Right now it's doesn't mean anything. But if this continues in September, October and November, this is really going to suck. I can't continue taking it easy, eventually I have to be able to ski properly."
He picks up his bike at the local school. He says he doesn't think he'll bike all the way – 18,1 kilometers and 1184 meters in elevation – to the top of the glacier. His doctor didn't really like the thought of that. But it doesn't take long before it becomes clear that this is precisely what Aksel intends to do.
He climbs up the hills towards the top of the foggy mountain. The sweat is dripping from his helmet. In some places, the hills are so steep that he has to zigzag in order to get anywhere. He blows his nose to make it easier to breathe. In one of the steepest hills we hear him groan: "WHAAH!" and "F**k!"
At the next turn, he stops, gets off his bike and shouts: "I need a sandwich!"
Aksel Lund Svindal gobbles down a peanut butter and blueberry sandwich before he says, determinedly, that now that he's so close, he has to get to the top. He also states that he can't lie in bed while the others are out on their skis.
And just like that, he gets up to the edge of the snow, on a bike, while his buddies get down on their skis. They meet, he seems happy – the nature was wild and he mastered the hill. When we ask him if he wants a coffee from the café, he replies: "Well, if you're treating, could I have a waffle too? With jam? And sour cream!"
He eats his waffle and puts his injured leg on the bench in front of him. Dr. Strauss looks at it. Touches it. He's silent for a little too long. And then Aksel Lund Svindal quietly asks the doctor, but probably most of all himself:
"Do we have everything under control now?"
The Danish doctor, who's had surgery on his meniscus twice himself and is known to be one of the best knee surgeons in Europe, tells A-magasinet that he's relatively pleased with his patient's recovery. Then he goes on to talk about the conversation the two of them had right before the surgery in January:
"I said: "Aksel, what's your plan? What do you want?" He replied: I want to ski. As long as I enjoy it, I want to try." I told him that we would help him."
And then he started operating. Did he feel extra pressure knowing it was Norway's biggest international sports star lying on the table in front of him?
"No. When a patient is under anesthesia and covered up, they all become regular patients. But don't tell Aksel that," Strauss says and laughs.
"Do you think he can win a race again?"
"Yes, I think so."
Aksel Lund Svindal hears that we have interviewed his doctor. In the car on the way back, he asks:
"What did Strauss say?"
"He said he thinks you can win again."
"Oh! He never says that to me. Perhaps it's about curbing the expectations. Doctors are good at that," Svindal says.
He takes a shower and cools down his knee with what he finds in the kitchen: A bag of frozen asparagus.
Three men and a small room
Why does a person who has won most of what there is to win and has earned millions of Norwegian kroner force himself through yet another period of convalescence? Yes, he could potentially finally win the Olympic downhill gold medal in South Korea next year. Or, perhaps he will win that downhill race in Kitzbühel. But this doesn't seem to be what it's all about.
Part of the reason for his motivation is in room 113 at Folgefonna Motel: Friendship. Aksel Lund Svindal spends a long time explaining how amazing it feels to travel the world pushing your self "to the extreme" together with people you really enjoy being with.
He says that coaches may come and go. They may work for different nations or in different positions, but as a Norwegian professional skier, there is only one place to be: The Norwegian national team. If you are to be on the team for about 10-12 years and travel more than 200 days a year, you have to create a well-functioning community and build a healthy team culture that gets passed on from one generation of skiers to the next. Svindal says he still feels the presence of the guys who started the Norwegian alpine ski fairy tale, people like Ole Kristian Furuseth, and those who took care of him when he was the new kid – Kjetil André Aamodt and Lasse Kjus.
"It's a community you don't want to leave unless you have to. It's self-reinforcing, like a machinery that just goes on and on," he says.
Three of the single beds are currently in use by Svindal, Kjetil Jansrud and Aleksander Aamodt Kilde, all three of them speed monsters who are not only teammates, but also fierce competitors. In a few months, they will be competing for the same gold medals. Sometimes it's only a couple of hundredths of a second that sets them apart.
Right now, their toothbrushes and other toiletries are placed on small tables, their large ski coats are hanging over a bed, a lot of their stuff is placed in the hallway because they can't fit it all in their room. They sleep so close to each other that if one of them rolls over, the other guys can feel the wind from his feet. Snoring? "You have to have earplugs."
Sometimes Aksel Lund Svindal is surprised how direct and assertive he can be when he talks to others. Usually it happens when someone complains about things that you can't do anything about at the moment.
"The "spirit" within the group relies on everybody pushing in the same direction. Really pushing hard. Sometimes people start complaining. It rarely happens that someone says: "Damn it, we're good at this! Let's continue this amazing work." No, usually it's something negative. And the only thing you achieve by that is wasting time and creating a bad mood within the group. When this happens, I'm usually quick to say: "We can't do anything about that right now, so I don't care. I tell them that this is what we have, and this is our goal," he says. Svindal claims that these thoughts can be transferred from top-level athletes to regular workplaces too.
Aksel Lund Svindal 2.0
Aksel Lund Svindal is quick to point out that his profession is not a normal one and that top-level sports "might not be good for you." He thinks that many ex-athletes are limping about as living proofs of someone who burned their candle – hard – in both ends. But he's not concerned about his own retirement.
"I think they will invent new things," he says.
When he says "they", he's referring to scientists. By "things" he means solutions that will replace knee- and hip prosthesis. Artificial cartilage, for example.
"What's the price society has to pay for all the knee- and hip surgeries we see today? I think these are pretty strong incentives to try to decrease the cutting off of bones and replacing it with titanium – there has to be better methods. I won't put all my eggs in that basket, it´s not like I don´t give a f**k. But I believe in an upside. Besides, even if you have to walk backwards down the hills to save your knees when you're out hiking with your family or cannot play soccer, there are so many other fun sports you can do," he says.
Dr. Marc Jacob Strauss says that cartilage research is happening at full speed – in Oslo, as well – but that it is impossible to say how long it will take before there's a substantial breakthrough. He claims that the person who solves this puzzle will become very rich and won't ever have to work again.
"Can someone call my dad?"
Everyone knows that competitive alpine skiers get injured from time to time. Still, it's a little weird listening to Aksel Lund Svindal talking about the short tenths of a second before a crash. Even on the occasions when the crashes have been so brutal he's had to be picked up by an ambulance in the bottom of the race track, he's believed that everything would be fine.
"It's what separates him and the other professional skiers from the rest of us," says Christian Mitter, head coach of the Norwegian alpine ski team.
"They think it's going to go just fine, because: It usually does. They have so many kilometers at high speed in their bodies, so much experience. A guy like Aksel has seen everything, gone skiing everywhere and experienced it all. It's all in your head," Mitter says.
When Aksel loses control at high speed, he feels a jolt go through his body. It's as if fear gives him an electric shock. And then his brain refuses to accept what is about to happen. It tells him: "You've experienced this many times before. You can manage to pull yourself together. You'll fix this." Even in Beaver Creek, as he was summersaulting in mid-air with his skis pointing up towards the sky, he remembers thinking: "Oh, shit, shit. Yes, I've got this".
The following tenth of a second – when he hit the ground – he was knocked unconscious, his knees slamming his head.
He woke up in a pool of blood. He believes that he fainted again. When he gained fully consciousness again, he lost control over his body temperature. He went from freezing to "sweating bullets," and that's when Aksel Lund Svindal thought: "Something is not quite right." In the ambulance he said: "Can someone call my dad?" He didn't want his father to learn about his accident from the radio.
Pockets full of candy
The last vivid, living memory Aksel Lund Svindal has of his mother Ina, is that when he came home from school she was there. Just like she usually was.
He says he doesn't remember that much because he was only eight years old, and he took it for granted that this was how life was going to be: A mom waiting for him when he came home from school, who helped him with his skiing equipment, who sat in the front seat of the car and went skiing with him. She was a good skier.
Every time he sees pearl earrings, he still thinks of her. Once, when he was little, she'd dressed up as Santa and came to his day care center. He recognized her immediately when he saw the earrings, which the mask didn't cover.
"She was on her way to the hospital to give birth. My little brother and I were supposed to go to our grandparents after school. When we got there, we noticed that something was wrong. Our dad arrived. Gradually, it sank in. We went to the hospital, and then we understood that everything was…"
He's quiet for a few moments.
"…when we came to the hospital, she was dead."
The child she was carrying, Aksel's baby brother, was hospitalized for the duration of his whole lifespan of one and a half years, before he eventually died of a heart attack.
Aksel Lund Svindal remembers his mother's funeral. Before they went to the church, someone had filled his and his brother's pockets with candy. His strongest memory from the time is how his father, his grandparents, neighbors and friends were around them all the time, how tight-knit they were and how important it became for his father to continue to do the things they had always done, like skiing.
"Of course it was sad for my brother and I when our mother passed away. But for him, it must have been totally devastating. He handled it in the most awesome way. Most of what I am, I am because of him."
Many men have a problematic relationship with their father. But not Aksel Lund Svindal. The two of them are "very close and have a relaxed relationship." They talk on the phone almost every day, regardless of where the skier is. According to Aksel, Bjørn is "patient, smart and firm." When asked to describe how his dad took care of him and his little brother after their mother passed away, he almost doesn't know where to start.
The whole "square life thing" – I love it!
"When you think of what he has meant for you: Do you want to become like him?"
Aksel Lund Svindal smiles at this poorly camouflaged question: Does he want to become a father?
When the Norwegian magazine Henne asked him the same question in 2011, he replied that his life was quite "far away from family and children." Now, six years later, he has a girlfriend, Gitte Lill Paulsen, a model from Bergen. She lives in New York. His home is in Innsbruck, Austria. You might think that his life is still far away from family and children. But Svindal makes an unexpected turn:
"You pave the road as you're walking. What people call a "square" life, a conventional way of living – two kids, a station wagon, a golden retriever and a cabin in the mountains…"
"Yes?"
"I think it sounds wonderful! It's not about the façade. It's about how everyone within this whole little "square cliché" is doing – that they are all well and healthy and that they love each other. I would love to have a whole little crew. I'm not going to have this job forever.
The following month, on the last Sunday in August, the couple is biking down Gyldenløves street in Oslo. Due to their professions, they spend a lot of time apart, but during the summer they got to spend most of their time together. Right now, they have a few days together before Gitte Lill Paulsen has to return to the States and he has to go on a several weeks long training camp with his teammates in the mountains of Chile.
Aksel Lund Svindal believes that it is important to be able to be happy on your own. Besides, if you miss your partner, it is comforting to know that you have something good together. Just the thought of him being together with Gitte Lill, although she lives on another continent, makes him happy.
"You have been single at times. Did you ever hear strange rumors about yourself?"
"Since you're asking so bluntly, I know what you're getting at," Svindal replies.
During Easter, a year and a half ago, he went on a road trip in Florida. A friend from Austria joined him for the first week, and another friend from Italy came along for the following week. One day, he received this text message from some friends in Hemsedal, Norway: "Just so you know, people here are talking about you being on vacation with a guy who's your boyfriend." The rumors had it that he was dating another famous Norwegian. He's later been repeatedly confronted with similar stories about himself.
"I've been a public figure for 15 years, and I don't really pay that much attention to what people say about me or what the tabloid media writes about me. I recently attended a public media event, where I out of courtesy replied to two questions from the Norwegian tabloid magazine Her og Nå. On the cover of their magazine it was presented as if this was an exclusive interview," he says.
"If I were gay, I hope I would have been strong enough to be open about it. I know that as top athlete, I'm a role model for many, and honesty is important if you want to be a good role model. But I can't be that role model. That would be lying. I'm not gay."
An update from the mountains
One of Aksel Lund Svindal's strengths is that he's good at focusing on the things he can do something about. You can't do anything about rumors. Skiing? That's something else, entirely. In early September, Svindal and his teammates are off to Valle Nevado in Chile. Before he travels, there he posts a picture of himself on Instagram along with this line: "The last few urban days before it's all mountains."
He's excited. These weeks at high altitude is going to have a big impact on his upcoming comeback season. He can't afford to lose more days of practice. If his practice goes well here, everything is possible.
In the evening of September 20th, two and half weeks into the training camp, A-magasinet calls him on Skype. He's more than 12.000 kilometers away. In order to get better internet connection, he has ventured off from the national ski team's apartments to a hotel nearby. He says that he is more than half way through "a month-long stay at a parking lot at 3000 meter altitude."
"But…," Aksel Lund Svindal says and smiles through the screen, "when the skiing is going so well and everything is so uplifting as they are now, it doesn't matter that we're staying at a parking lot."
"Has your knee stopped swelling?"
"Yes, that's what's so great compared to when we were at Folgefonna. It still hurts, but it's not that bad. I'm almost at full speed together with the other guys."
"Do you think you could have won World Cup races if they started today?
"Eh… it's a little too early. But if I continue practicing like I'm doing now, I can win World Cup races. And that's what's important, because there are no world cup races today," Svindal says before the connection is broken.
His coach, Lars Mæland confirms: "Aksel is progressing just like we hoped he would. He's working patiently and targeted. While he was in Chile he improved gradually as he became more confident and comfortable."
Testing, testing
This is not just something he says. Facts prove it, the coaches and the supportive team surrounding the national team run tests on most things the athletes do. On the second day of November, Aksel Lund Svindal enters – without the slightest limp – the test room of Håvard Moksnes, a specialist in sports physiotherapy.
"Håvard supervises all the knee rehabilitations," Aksel explains.
"Let's see if we made it this time," Moksnes says.
The skier sits down in a tall chair with a computer screen in front of it. He's about to do an isokinetic strength test. This advanced and very expensive technology will measure the strength of his thigh muscles on each leg. The margin of error on this machine is minimal. On a signal from Håvard Moksnes, Svindal pushes his leg as hard as he can. Up and down.
Then it's all getting very exciting. How strong is Aksel Lund Svindal's leg – the one on which he had surgery 289 days ago? The only acceptable result is a difference of less than 10 percent in strength between the right and left leg. Research has shown that if the difference is greater than 10 percent, the risk of new injuries increases.
"Come on! Up! Down! Up! Down! One more!" Moksnes says.
The numbers are shown on the screen. Then they are printed out on a sheet of paper. The two of them look at the paper, then at each other. They almost seem puzzled. One of the 34 year-old's leg – the one where he had his operation – is now stronger than other leg. The test results are the best he has had in five years. He smiles awkwardly. "Fascinating," Moksnes says quietly.
Two days later Aksel Lund Svindal boards a plane to the US and is on his way to the very last training camp before his big comeback race in Lake Louise. He knows he has done everything he can to get back. Nobody can ask for more than that.
EPILOGUE: First Aksel Lund Svindal found his way back to the World Cup slopes. He came back like he had never been away, blasting down to podium spots six times before he travelled to the Olympics in South-Korea. And then: February 15. 2018 he became the first Norwegian ever winning the downhill competition.
rob@aftenposten.no
Twitter: @Veiaaker
Translated to English by Trine Angelskar
A-magasinet
Nyhetsbrev Få ukens høydepunkter fra A-magasinet rett i innboksen din hver fredag!