NORSK VERSJON: Norsk fengselsstraff følger to grunnleggende prinsipper. Hva skjer når disse møter en mann som har drept 77 mennesker?
Unacceptable. Doubtful. Additional punishment. These are some of the comments from legal experts and defence attorneys about the fact that the mass murderer is being held in isolation for so long.
— Our social mission is to make sure that the punishment imposed is conducted in a responsible manner, and this always involves a number of dilemmas, says Marianne Vollan, who is the leader of the Norwegian Directorate for Correctional Services.
The mass murderer Breivik is a challenge to the Norwegian justice- and penal system. But there was general agreement that the extreme crimes he committed should not be allowed to change the rule of law in Norway.
There is a basic principle in Norwegian correctional care that a prison sentence involves the loss of freedom, not the loss of other basic human rights. Besides, there is broad agreement among professionals, including the management of the Directorate for Correctional Services, that the use of isolation could damage a person's physical and mental health.
But what happens when these principles, and the knowledge of the effects of isolation, meet the man who on Friday July 22, 2011 killed 77 persons?
Norway's harshest
Since the summer of 2011, Breivik has been kept under an «especially high security regime» in the prisons in Ila in Bærum and in Skien. This is the absolutely strictest level of serving a sentence in Norway, and it is applied in just a very few cases involving high risk of escape, the danger of hostage taking or the risk of renewed serious crime.
During the last five years, there have only been two cases of imprisonment in such a department. During the last ten years, the number has been about five.
There are no limitations as to how long time a prisoner can serve in a high-security department. The correctional services estimate the average time at about 12-18 months.
Secret basis
The terrorist has so far done 33 months in prison. He has access to several rooms, but is excluded from contact with other prisoners, and he does not take part in any common activity in the prison.
Since he was jailed, he has had no other visitor than his mother, who is now deceased, his defence attorneys and professionals, like health care personel or a priest. This is according to Tord Jordet, a lawyer at the law firm Lippestad, which has handled the terrorist's case since July 2011.
He has access to newspapers and a TV-set with a game console. He does not have access to a computer, but a typewriter is available.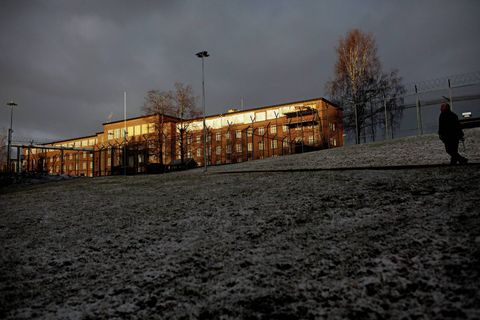 Stian Lysberg Solum/NTB SCANPIX
He may come out into the open air in specially designed spaces of about 30 – 50 sq.metres. According to his defence attorney, he must undergo inspections to his body every day.
The local correctional services will decide on the continued serving under strict conditions for up to six months at a time. The arguments for each decision will not be made public.
— Punishment shall be conducted in a way that takes care of the safety for society, the inmates and staff. Safety-concerns justify why some prisoners are serving their time under a particularly high level of security. Every case is being reviewed continuously, and will only be upheld when it is necessary for safety reasons, according to Marianne Vollan, the director of the Directorate for Correctional Services.
- Breaches of human rights
The defence attorney Tord Jordet has, until last January, kept a low profile in discussing the terrorist and his conditions in prison. Now he says Breivik intends to take his case to court, hoping to have the terms of isolation declared unlawful.
- When a court sentences someone to prison, the detention, the loss of freedom in itself is supposed to be the punishment. A person shall not be given additional punishment through conditions of serving that are stricter than necessary, argues Jordet.
— Breivik is isolated from contact with other inmates and he is to a large degree being refused the possibility to communicate with persons outside the prison. When the sole justification for doing this is found in the matters he has already been sentenced for, we can only see this as an unlawful additional punishment, and a clear breach of human rights, says Jordet.
- Security
Erling Johannes Husabø, criminal law-professor at the University of Bergen, thinks there is reason for concern if it is true that the isolation is total.
— The case undoubtedly had a particularly comprehensive and horrific nature. But several crimes have terrible consequences. When the convict has actually been put in prison or is under detention, concerns connected to the implementation of the punishment and the safety of the prison staff and other inmates shall decide what restrictions can be imposed on him within the penitentiary, according to Husabø.
Harald Stabell, the renowned lawyer and defence attorney, finds Breivik's time in isolation unacceptable.
— His case is undoubtedly special, fortunately, but that still doesn't justify this regime of isolation. There must be other ways to reduce the risk of escape, at the same time as his own security is safeguarded, says Stabell. His law office represented several survivors and victims' relatives after the terror of July 22.
Kristian Andenæs, professor at the institute of criminology and court sociology at the University of Oslo, says we have comprehensive knowledge about the damaging effects of isolation.
— 33 months is extreme, and cannot be justified, whether in Norwegian or international law, according to Andenæs.
- Hatred
On January 10, 2013 Breivik reported several persons to the police for violation of the penal code's §117a, which among other things concerns state officials who inflict damage or mental pain to another person, intending to punish him.
The terrorist says his punishment is 21 years in detention and that isolation is additional punishment. He thinks conditions in prison have deteriorated after he reported to the police. That the hatred against him is so strong, that principles of the rule of law have been set aside.
On February 24 this year, the case was dropped by the police, saying «no punishable matter proven».
Lawyer John Christian Elden, who also served as a counsel in the July 22-process, says isolation in detention is considered to be torture according to international rules. It shall not be used unless not absolutely necessary.
— Justifying isolation by arguing it is for his own protection, if he does not want it himself, is at best questionable, says Elden.
- Well within
Article 3 of the European Convention on Human Rights states that nobody must be exposed to torture or inhuman or degrading treatment.
Kjetil Mujezinoviã Larsen, who is professor of jurisprudence at the Norwegian Centre of Human Rights, thinks the regime Behring Breivik is serving under, as reported here, is well inside the framework of what the Human Rights convention accepts in its article 3.
— The European Court of Human Rights has been willing to accept long-time isolation with conditions that are probably similar to those of Behring Breivik, in cases against persons who have committed comparable actions, says Larsen.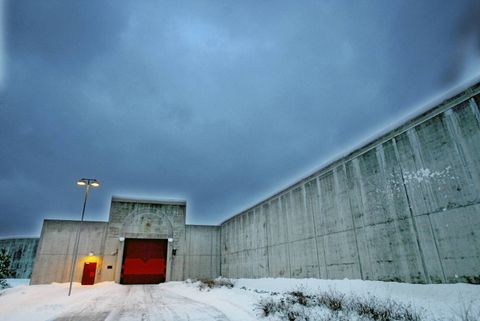 Roger Neumann/NTB SCANPIX
Tord Jordet, on the other hand, reacts strongly to the fact that Breivik is still held in isolation, and that this isolation now makes his right to rehabilitation almost impossible.— I see no plan or thoughts about his rehabilitation. I have requested access to the plan for his serving the sentence, and the answer was that there is no such plan. Maybe they don't want him to change, so that he can be kept in prison for the rest of his life, says Jordet.
- Additional punishment
Are the correctional services imposing an additional punishment on Breivik by keeping him in isolation, and what he himself argues is the lack of opportunity to be rehabilitated?
— Yes, he is been given additional punishment, says Harald Stabell.
— It is an additional punishment. And if it is not objectively justified, this is in itself punishable according to the penal code's §117, article one. It states that public servicemen will be punished if they strengthen the implementation of an imposed punishment, according to John Christian Elden.
— In reality isolation and lack of rehabilitation is an additional punishment, which is contrary to Norwegian legislation, says Kristian Andenæs.
Professor Husabø thinks it can be perceived as additional punishment if the isolation within the penitentiary goes on for a long time. He thinks, however, that the justification for isolation is decisive, legally speaking.
— If a prisoner for instance is especially dangerous to his co-inmates, it cannot be counted as a punishment to keep him isolated from the others for a while. But if the justification lies in the crime he has done, then it is an additional punishment which the law will not allow, says Husabø.
- Not unusual
Marianne Vollan in the Directorate for Correctional Services says Breivik was sentenced to detention, and is serving his time under a particularly high security regime, which in itself is not unusual.
- Such a special security lever can only be established when it is necessary for safety reasons. The terms of serving involve no additional punishment, but the necessity for such a regime shall be reviewed continuously, she says.
Frode Sulland, who heads the group of defense attorneys in the Norwegian Bar Association, says the access to the use of isolation, according to the law on implementation of punishments, is regulated by strict conditions.
— Isolation of inmates shall be used with extreme caution, because of the comprehensive damages it could have. This risk is extensively documented in a number of international reports. At the same time, hardly any other prisoner in Norway since the second world war has created similar challenges for the correctional services as Behring Breivik, says Sulland.
On February 22 last year, just over a month after he reported the prison for torture, Behring Breivik requested a counsel. According to Norwegian law you are entitled to support from a lawyer in matters «where there is reason to believe that the aggrieved party, as a consequence of the action will suffer considerable damage to his body or health».
The Supreme court rejected, as the third authority, this request. According to Tord Jordet this ruling set the following precedent:If an inmate in a Norwegian prison reports torture, and the police investigate the matter, then this person does not have the right to have a counsel, unless he can prove that he has suffered damage.
According to a report from the Norwegian centre for human rights on the use of isolation, published in June 2012, the conclusion is drawn up already on the first page of the summary:
«Isolation is a very large intervention into the personal freedom of the individual, exceeding the already comprehensive limitations following the loss of freedom. Besides, there is broad agreement that isolation can be very harmful for a person's physical and mental health, and that this practice does not promote the reintroduction into society, which is the supreme aim of the correctional services.»
Marianne Vollan in the Directorate for Correctional Services says they share the points of view on the use of isolation, which are referred to in the report.
— What we are doing, must always be within the framework of rules. At the same time, we must take into consideration the interests of society and of individuals. We stand responsible to society, the prisoner, the co-prisoners and our own employees.
May be released
Breivik was sentenced to 21 years detention, with a minimum of 10 years. The first time he will be entitled to a new review of the detention is on July 22, 2021.
A central principle for Norwegian correctional services is the attempt to try to rehabilitate the convict in order to release him into society again.
But is this principle relevant for someone who killed 77 people?
Yes, say the correctional services.
- The rules do not foresee that anyone should be exempt from this philosophy, says Vollan.
— Still, it's a fact that the implementation of prolonged detention shall ensure society's need of security against new, serious crime by the convict. Within reasonably secure limits he shall be given a chance to change his behaviour, she says.
Yes, say a number of lawyers and experts on penal law.
— The longest punishment in Norway is prison for 21 years – it goes for Breivik as well, even if his actions extends beyond the limits. Norwegian criminal law does not believe in longer punishment, but in rehabilitation. Even that is difficult for society, says John Christian Elden.
— Norwegian correctional practice rest on a principle of rehabilitation and a principle that the punishment shall not be more onerous than necessary. It is not just a question whether these principles should apply in the case of Behring Breivik. According to Norwegian law these principles apply to any prisoner, including him, says Kristian Andenæs.
- No special rules
Tord Jordet thinks there exists no willingness within the correctional services to think that Norway's worst terrorist should have the chance to change.
— As soon as there is a sentence, the correctional services shall start a rehabilitation process, targeted at the reintroduction of the convict into society. Many people find it so inconceivable that Breivik should be released, that it seems the correctional services neither wish nor have the ability to facilitate his return to society one day. In this case I think the correstional services have failed, says Jordet.
There was a general agreement not to create special rules for Anders Behring Breivik. Can we do that, Vollan?
— There are no special rules in this case. We relate, at any time, to the rules that apply.
Related stories in Norwegian: