Norway's prime minister and several government members censored by Facebook
– Facebook is taking a wrong step when they censor images like these, prime minister Erna Solberg said.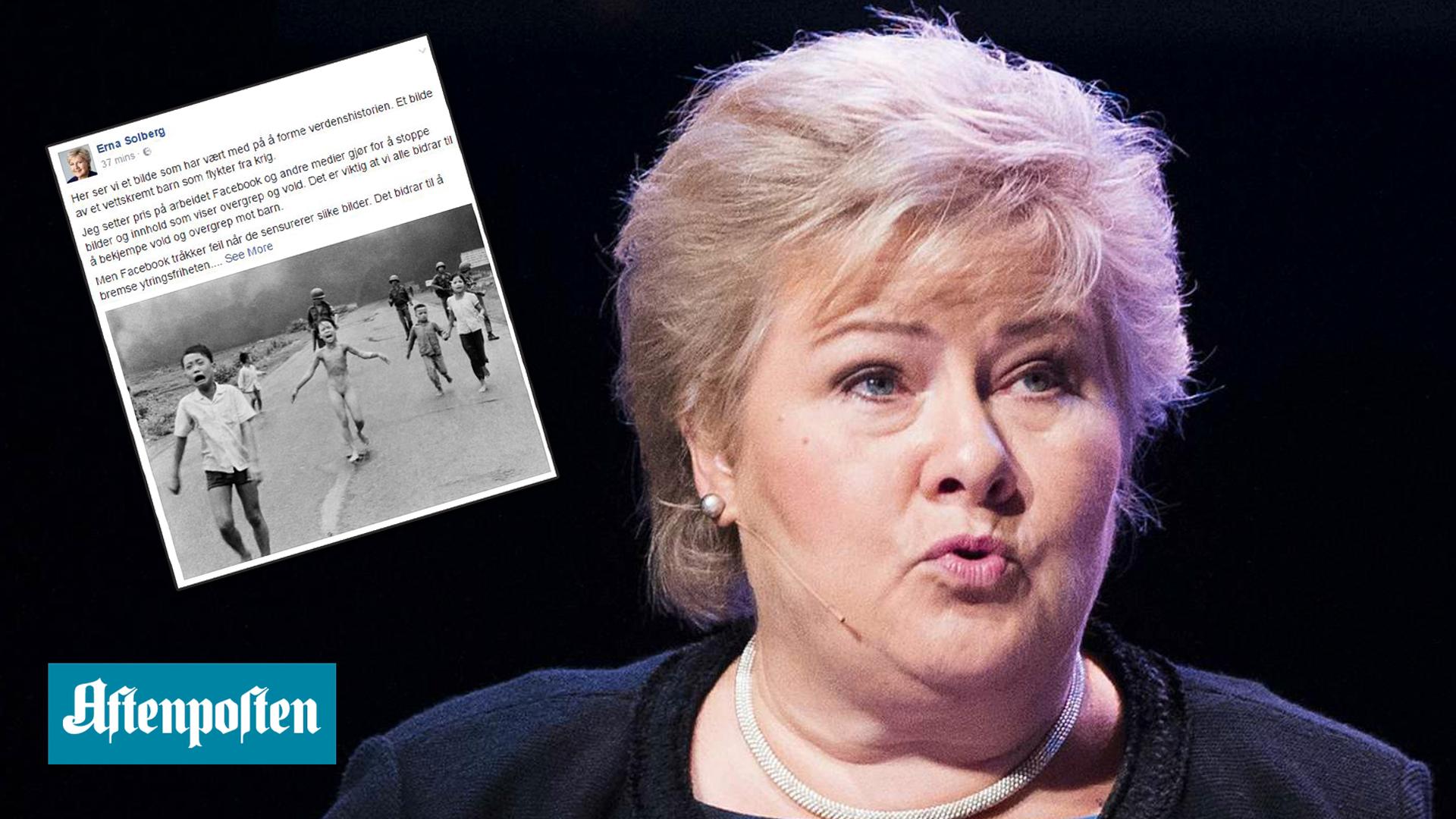 Half of the ministers in the Norwegian government shared the famous Nick Ut photo on their Facebook pages, among them prime minister Erna Solberg from the Conservative Party (Høyre).
But after only a few hours several of the Facebook posts including the Prime Minister's post were deleted by Facebook.
– It is very regrettable that Facebook removed a post from my Facebook page, Solberg said to Aftenposten.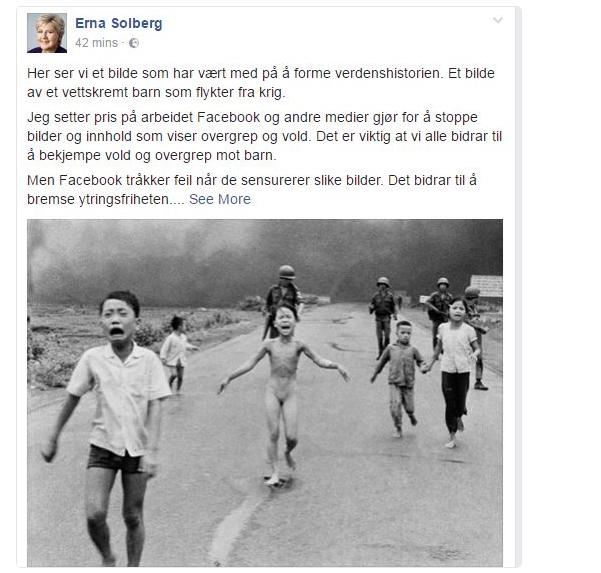 Prime minister Solberg's post was removed from Facebook on the same day as Aftenpostens editor-in-chief Espen Egil Hansen sent an open letter to Facebook's CEO Mark Zuckerberg.
Before its removal, the Prime Minister's Facebook post was shared 2000 times and liked by 7000 people.
In the post, she wrote:
– This picture is part of the world history. A picture of a terrified child ecaping from war. I appreciate the work of Facebook and other media outlets in stopping pictures and content that show abuse and violence. It is important that we all contribute in the fight against violence and child abuse.
– But Facebook is taking a wrong step when they censor images like these. It works to curb the freedom of speech.
Several other ministers shared the Facebook post showing the image, including the Foreign Minister Børge Brende, Health Minister Bent Høie, Minister of Fisheries, Per Sandberg, Education Minister Torbjørn Røe Isaksen and Minister of Culture Linda Hofstad Helleland.
At time of writing, all of them were removed except Røe Isaksens post.
Facebook's response
Aftenposten received the following answer from an unnamed Facebook spokesperson:
«While we recognize that this photo is iconic, it's difficult to create a distinction between allowing a photograph of a nude child in one instance and not others. We try to find the right balance between enabling people to express themselves while maintaining a safe and respectful experience for our global community. Our solutions won't always be perfect, but we will continue to try to improve our policies and the ways in which we apply them.»
Describing the image as «iconic», Education Minister Torbjørn Røe Isaksen said the picture has nothing to do with child abuse.
The Minister of Culture, Linda Hofstad Helleland, said that this case shows that «we have to put pressure on Facebook, in order for them to become more open and create clearer guidelines.»