Slik spilles neste sesongs Premier League
<p>Sjekk når storoppgjørene spilles her.</p>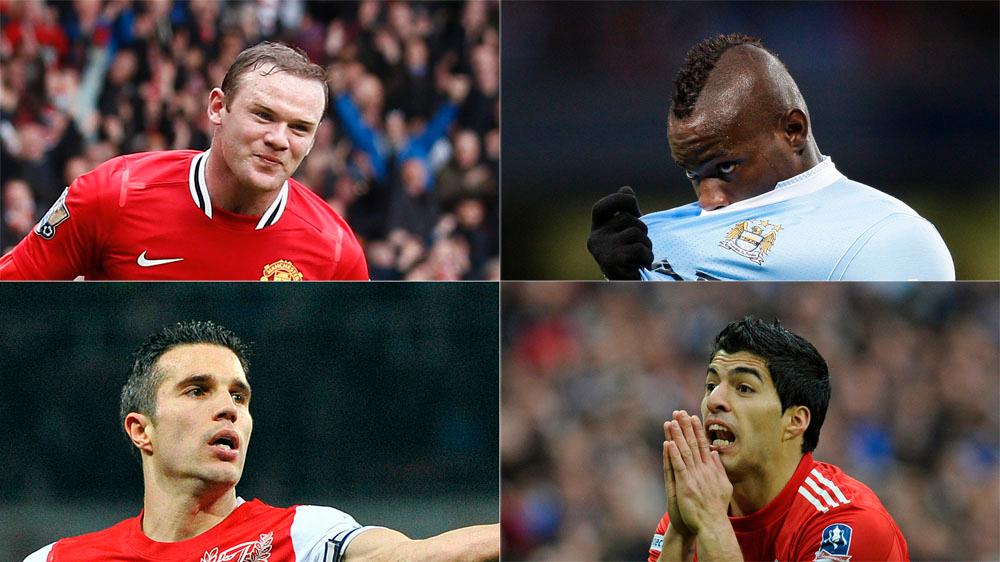 I dag kom terminlisten for neste sesongs Premier League, og fotballfans verden over kan glede seg over å studere når lagene skal møte hvem når sesongen sparkes igang igjen.
Og den første serierunden vil foregå uten et virkelig storoppgjør, selv om man gjerne kan si at det er to forventede topplag som møtes når Newcastle tar imot Tottenham i sesongåpningen.
Regjerende seriemester Manchester City får en relativt «enkel» start på sesongen når de skal møte nyopprykkede Southampton, mens Manchester United får det litt tøffere i bortekampen mot Everton. Liverpool skal opp mot West Bromwich, samtidig som Arsenal får Sunderland på besøk på Emirates.
Men vi må ikke vente lenger enn til den andre serierunden før vi får en lekkerbisken. Liverpool tar imot Manchester City på Anfield, i det som bør bli en skikkelig test på begge lags styrke den kommende sesongen.
Allerede i runden etter må Liverpool på ny belage seg på å ta imot en storklubb. Da er det nemlig Arsenal som kommer på besøk. To runder senere er det Manchester United som gjester Anfield — i det som blir «De røde djevlenes» første storkamp for sesongen.
En kamp mellom de to gullrivalene fra Manchester får vi imidlertid ikke før i desember. Da er det City som skal ta imot United til dyst.
Ingen av de virkelige gullkandidatene skal opp mot hverandre i den siste runden som spilles 19. mai.
Nå har Premier League lagt ut kampoppsettet for neste sesong.
Her er hele oppsettet for 2012/13-sesongen (tv-kamper kommer senere):
Lørdag 18. august:
Arsenal-Sunderland
Everton-Manchester United
Fulham-Norwich City
Manchester City-Southampton
Newcastle United-Tottenham Hotspur
Queens Park Rangers-Swansea City
Reading-Stoke City
West Bromwich Albion-Liverpool
West Ham United-Aston Villa
Wigan Athletic-Chelsea
Lørdag 25. august:
Aston Villa-Everton
Chelsea-Newcastle United
Liverpool-Manchester City
Manchester United-Fulham
Norwich City-Queens Park Rangers
Southampton-Wigan Athletic
Stoke City-Arsenal
Sunderland-Reading
Swansea City-West Ham United
Tottenham Hotspur-West Bromwich Albion
Lørdag 1. september:
Chelsea-Reading
Liverpool-Arsenal
Manchester City-Queens Park Rangers
Newcastle United-Aston Villa
Southampton-Manchester United
Swansea City-Sunderland
Tottenham Hotspur-Norwich City
West Bromwich Albion-Everton
West Ham United-Fulham
Wigan Athletic-Stoke City
Lørdag 15. september:
Arsenal-Southampton
Aston Villa-Swansea City
Everton-Newcastle United
Fulham-West Bromwich Albion
Manchester United-Wigan Athletic
Norwich City-West Ham United
Queens Park Rangers-Chelsea
Reading-Tottenham Hotspur
Stoke City-Manchester City
Sunderland-Liverpool
Lørdag 22. september:
Chelsea-Stoke City
Liverpool-Manchester United
Manchester City-Arsenal
Newcastle United-Norwich City
Southampton-Aston Villa
Swansea City-Everton
Tottenham Hotspur-Queens Park Rangers
West Bromwich Albion-Reading
West Ham United-Sunderland
Wigan Athletic-Fulham
Lørdag 29. september:
Arsenal-Chelsea
Aston Villa-West Bromwich Albion
Everton-Southampton
Fulham-Manchester City
Manchester United-Tottenham Hotspur
Norwich City-Liverpool
Queens Park Rangers-West Ham United
Reading-Newcastle United
Stoke City-Swansea City
Sunderland-Wigan Athletic
Lørdag 6. oktober:
Chelsea-Norwich City
Liverpool-Stoke City
Manchester City-Sunderland
Newcastle United-Manchester United
Southampton-Fulham
Swansea City-Reading
Tottenham Hotspur-Aston Villa
West Bromwich Albion-Queens Park Rangers
West Ham United-Arsenal
Wigan Athletic-Everton
Lørdag 20. oktober:
Fulham-Aston Villa
Liverpool-Reading
Manchester United-Stoke City
Norwich City-Arsenal
Queens Park Rangers-Everton
Sunderland-Newcastle United
Swansea City-Wigan Athletic
Tottenham Hotspur-Chelsea
West Bromwich Albion-Manchester City
West Ham United-Southampton
Lørdag 27. oktober:
Arsenal-Queens Park Rangers
Aston Villa-Norwich City
Chelsea-Manchester United
Everton-Liverpool
Manchester City-Swansea City
Newcastle United-West Bromwich Albion
Reading-Fulham
Southampton-Tottenham Hotspur
Stoke City-Sunderland
Wigan Athletic-West Ham United
Lørdag 3. november:
Fulham-Everton
Liverpool-Newcastle United
Manchester United-Arsenal
Norwich City-Stoke City
Queens Park Rangers-Reading
Sunderland-Aston Villa
Swansea City-Chelsea
Tottenham Hotspur-Wigan Athletic
West Bromwich Albion-Southampton
West Ham United-Manchester City
Lørdag 10. november:
Arsenal-Fulham
Aston Villa-Manchester United
Chelsea-Liverpool
Everton-Sunderland
Manchester City-Tottenham Hotspur
Newcastle United-West Ham United
Reading-Norwich City
Southampton-Swansea City
Stoke City-Queens Park Rangers
Wigan Athletic-West Bromwich Albion
Lørdag 17. november:
Arsenal-Tottenham Hotspur
Fulham-Sunderland
Liverpool-Wigan Athletic
Manchester City-Aston Villa
Newcastle United-Swansea City
Norwich City-Manchester United
Queens Park Rangers-Southampton
Reading-Everton
West Bromwich Albion-Chelsea
West Ham United-Stoke City
Lørdag 24. november:
Aston Villa-Arsenal
Chelsea-Manchester City
Everton-Norwich City
Manchester United-Queens Park Rangers
Southampton-Newcastle United
Stoke City-Fulham
Sunderland-West Bromwich Albion
Swansea City-Liverpool
Tottenham Hotspur-West Ham United
Wigan Athletic-Reading
Tirsdag 27. november:
Aston Villa-Reading
Manchester United-West Ham United
Southampton-Norwich City
Stoke City-Newcastle United
Sunderland-Queens Park Rangers
Swansea City-West Bromwich Albion
Tottenham Hotspur-Liverpool
Wigan Athletic-Manchester City
Onsdag 28. november:
Chelsea-Fulham
Everton-Arsenal
Lørdag 1. desember:
Arsenal-Swansea City
Fulham-Tottenham Hotspur
Liverpool-Southampton
Manchester City-Everton
Newcastle United-Wigan Athletic
Norwich City-Sunderland
Queens Park Rangers-Aston Villa
Reading-Manchester United
West Bromwich Albion-Stoke City
West Ham United-Chelsea
Lørdag 8. desember:
Arsenal-West Bromwich Albion
Aston Villa-Stoke City
Everton-Tottenham Hotspur
Fulham-Newcastle United
Manchester City-Manchester United
Southampton-Reading
Sunderland-Chelsea
Swansea City-Norwich City
West Ham United-Liverpool
Wigan Athletic-Queens Park Rangers
Lørdag 15. desember:
Chelsea-Southampton
Liverpool-Aston Villa
Manchester United-Sunderland
Newcastle United-Manchester City
Norwich City-Wigan Athletic
Queens Park Rangers-Fulham
Reading-Arsenal
Stoke City-Everton
Tottenham Hotspur-Swansea City
West Bromwich Albion-West Ham United
Lørdag 22. desember:
Chelsea-Aston Villa
Liverpool-Fulham
Manchester City-Reading
Newcastle United-Queens Park Rangers
Southampton-Sunderland
Swansea City-Manchester United
Tottenham Hotspur-Stoke City
West Bromwich Albion-Norwich City
West Ham United-Everton
Wigan Athletic-Arsenal
Onsdag 26. desember:
Arsenal-West Ham United
Aston Villa-Tottenham Hotspur
Everton-Wigan Athletic
Fulham-Southampton
Manchester United-Newcastle United
Norwich City-Chelsea
Queens Park Rangers-West Bromwich Albion
Reading-Swansea City
Stoke City-Liverpool
Sunderland-Manchester City
Lørdag 29. desember:
Arsenal-Newcastle United
Aston Villa-Wigan Athletic
Everton-Chelsea
Fulham-Swansea City
Manchester United-West Bromwich Albion
Norwich City-Manchester City
Queens Park Rangers-Liverpool
Reading-West Ham United
Stoke City-Southampton
Sunderland-Tottenham Hotspur
Tirsdag 1. januar:
Chelsea-Queens Park Rangers
Liverpool-Sunderland
Manchester City-Stoke City
Newcastle United-Everton
Southampton-Arsenal
Swansea City-Aston Villa
Tottenham Hotspur-Reading
West Bromwich Albion-Fulham
West Ham United-Norwich City
Wigan Athletic-Manchester United
Lørdag 12. januar:
Arsenal-Manchester City
Aston Villa-Southampton
Everton-Swansea City
Fulham-Wigan Athletic
Manchester United-Liverpool
Norwich City-Newcastle United
Queens Park Rangers-Tottenham Hotspur
Reading-West Bromwich Albion
Stoke City-Chelsea
Sunderland-West Ham United
Lørdag 19. januar:
Chelsea-Arsenal
Liverpool-Norwich City
Manchester City-Fulham
Newcastle United-Reading
Southampton-Everton
Swansea City-Stoke City
Tottenham Hotspur-Manchester United
West Bromwich Albion-Aston Villa
West Ham United-Queens Park Rangers
Wigan Athletic-Sunderland
Tirsdag 29. januar:
Arsenal-Liverpool
Aston Villa-Newcastle United
Manchester United-Southampton
Norwich City-Tottenham Hotspur
Queens Park Rangers-Manchester City
Reading-Chelsea
Stoke City-Wigan Athletic
Sunderland-Swansea City
Onsdag 30. januar:
Everton-West Bromwich Albion
Fulham-West Ham United
Lørdag 2. februar:
Arsenal-Stoke City
Everton-Aston Villa
Fulham-Manchester United
Manchester City-Liverpool
Newcastle United-Chelsea
Queens Park Rangers-Norwich City
Reading-Sunderland
West Bromwich Albion-Tottenham Hotspur
West Ham United-Swansea City
Wigan Athletic-Southampton
Lørdag 9. februar:
Aston Villa-West Ham United
Chelsea-Wigan Athletic
Liverpool-West Bromwich Albion
Manchester United-Everton
Norwich City-Fulham
Southampton-Manchester City
Stoke City-Reading
Sunderland-Arsenal
Swansea City-Queens Park Rangers
Tottenham Hotspur-Newcastle United
Lørdag 23. februar:
Arsenal-Aston Villa
Fulham-Stoke City
Liverpool-Swansea City
Manchester City-Chelsea
Newcastle United-Southampton
Norwich City-Everton
Queens Park Rangers-Manchester United
Reading-Wigan Athletic
West Bromwich Albion-Sunderland
West Ham United-Tottenham Hotspur
Lørdag 2. mars:
Aston Villa-Manchester City
Chelsea-West Bromwich Albion
Everton-Reading
Manchester United-Norwich City
Southampton-Queens Park Rangers
Stoke City-West Ham United
Sunderland-Fulham
Swansea City-Newcastle United
Tottenham Hotspur-Arsenal
Wigan Athletic-Liverpool
Lørdag 9. mars:
Arsenal-Everton
Fulham-Chelsea
Liverpool-Tottenham Hotspur
Manchester City-Wigan Athletic
Newcastle United-Stoke City
Norwich City-Southampton
Queens Park Rangers-Sunderland
Reading-Aston Villa
West Bromwich Albion-Swansea City
West Ham United-Manchester United
Lørdag 16. mars:
Aston Villa-Queens Park Rangers
Chelsea-West Ham United
Everton-Manchester City
Manchester United-Reading
Southampton-Liverpool
Stoke City-West Bromwich Albion
Sunderland-Norwich City
Swansea City-Arsenal
Tottenham Hotspur-Fulham
Wigan Athletic-Newcastle United
Lørdag 30. mars:
Arsenal-Reading
Aston Villa-Liverpool
Everton-Stoke City
Fulham-Queens Park Rangers
Manchester City-Newcastle United
Southampton-Chelsea
Sunderland-Manchester United
Swansea City-Tottenham Hotspur
West Ham United-West Bromwich Albion
Wigan Athletic-Norwich City
Lørdag 6. april:
Chelsea-Sunderland
Liverpool-West Ham United
Manchester United-Manchester City
Newcastle United-Fulham
Norwich City-Swansea City
Queens Park Rangers-Wigan Athletic
Reading-Southampton
Stoke City-Aston Villa
Tottenham Hotspur-Everton
West Bromwich Albion-Arsenal
Lørdag 13. april:
Arsenal-Norwich City
Aston Villa-Fulham
Chelsea-Tottenham Hotspur
Everton-Queens Park Rangers
Manchester City-West Bromwich Albion
Newcastle United-Sunderland
Reading-Liverpool
Southampton-West Ham United
Stoke City-Manchester United
Wigan Athletic-Swansea City
Lørdag 20. april:
Fulham-Arsenal
Liverpool-Chelsea
Manchester United-Aston Villa
Norwich City-Reading
Queens Park Rangers-Stoke City
Sunderland-Everton
Swansea City-Southampton
Tottenham Hotspur-Manchester City
West Bromwich Albion-Newcastle United
West Ham United-Wigan Athletic
Lørdag 27. april:
Arsenal-Manchester United
Aston Villa-Sunderland
Chelsea-Swansea City
Everton-Fulham
Manchester City-West Ham United
Newcastle United-Liverpool
Reading-Queens Park Rangers
Southampton-West Bromwich Albion
Stoke City-Norwich City
Wigan Athletic-Tottenham Hotspur
Lørdag 4. mai:
Fulham-Reading
Liverpool-Everton
Manchester United-Chelsea
Norwich City-Aston Villa
Queens Park Rangers-Arsenal
Sunderland-Stoke City
Swansea City-Manchester City
Tottenham Hotspur-Southampton
West Bromwich Albion-Wigan Athletic
West Ham United-Newcastle United
Søndag 12. mai:
Arsenal-Wigan Athletic
Aston Villa-Chelsea
Everton-West Ham United
Fulham-Liverpool
Manchester United-Swansea City
Norwich City-West Bromwich Albion
Queens Park Rangers-Newcastle United
Reading-Manchester City
Stoke City-Tottenham Hotspur
Sunderland-Southampton
Søndag 19. mai:
Chelsea-Everton
Liverpool-Queens Park Rangers
Manchester City-Norwich City
Newcastle United-Arsenal
Southampton-Stoke City
Swansea City-Fulham
Tottenham Hotspur-Sunderland
West Bromwich Albion-Manchester United
West Ham United-Reading
Wigan Athletic-Aston Villa
(Kilde: premierleague.com)